Public Trails for Hiking and Biking
Providing access for public recreation is an important part of the Land Trust's mission and vision. Since 1990, IRLT has been able to preserve and protect 1,200 acres and more than 12 miles of Indian River Lagoon shoreline. Within those protected properties, IRLT is pleased to be able to provide residents with three public trails to enjoy. In additional to the map links provided below for each IRLT trail, we encourage trail visitors to also download and explore the Outer Spatial app, which has great information on hiking areas around the country, including all those in Indian River County.
---
Oyster Bar Marsh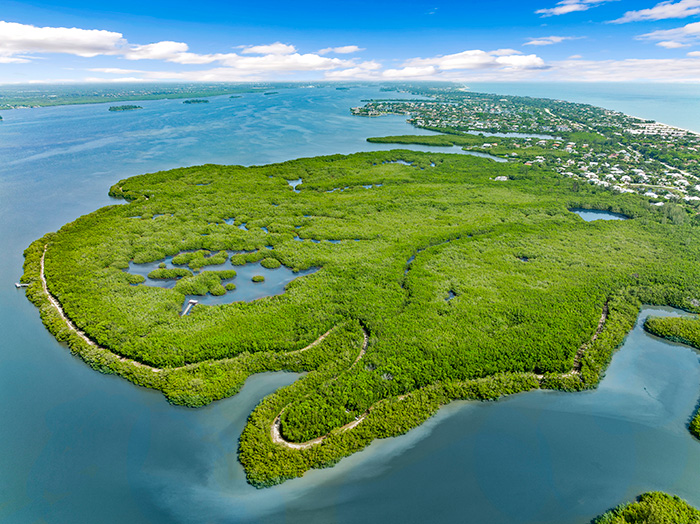 Public Trail Open Daily - Dawn to Dusk

Click here to watch a short video highlighting Oyster Bar Marsh!

Oyster Bar Marsh Trail was a concept ten years in the making. Early land acquisitions by Indian River County got things started. The Land Trust entered the picture and was able to acquire key parcels to help the project come to fruition. Opened in December 2022, the trail starts at an attractively landscaped trailhead parking area on the west side of Hwy A1A just north of Round Island Park and the St. Lucie County/Indian River County line (1955 South Hwy A1A). Walking and bicycling are permitted on the 3-mile round trip out-and-back trail. Dogs are allowed but must be "scooped" and kept on leash. Motorized vehicles are NOT allowed.

A Mini-Botany trail lies immediately west of the trailhead and orients visitors to plants native to Indian River County. The parking area landscaping is entirely native, as well. The trail follows the exterior dike of a mosquito impoundment, which is designed to control mosquito populations. The impoundment is also managed to serve as a nursery for aquatic species that inhabit the Indian River Lagoon. An interior pond overlook lies 2/3 of a mile from the trailhead and a stunning Lagoon overlook lies 2/3 of a mile from the trailhead. Both are worth the easy hike. A seating bench lies just shy of 1.5 miles from the boardwalk and serves as a good turn-around point to start the return walk to the parking area. Along the way, you'll catch glimpses of the Lagoon between the mangroves fringing the shoreline. Keep your eyes open for manatees and dolphins at the Lagoon overlook.
Click here to download the Oyster Bar Marsh Trail map.
---
Lagoon Greenway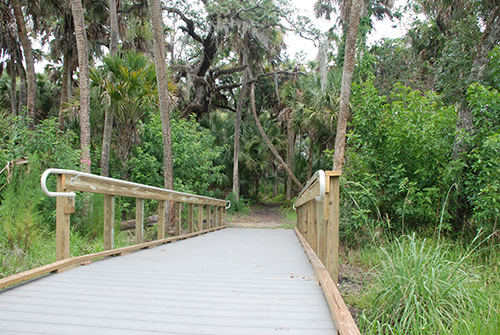 Public Trail Open Daily - Dawn to Dusk

*A public-private partnership between Indian River County and the Land Trust.

Located on the northeast corner of 8th Street, on Indian River Boulevard in Vero Beach.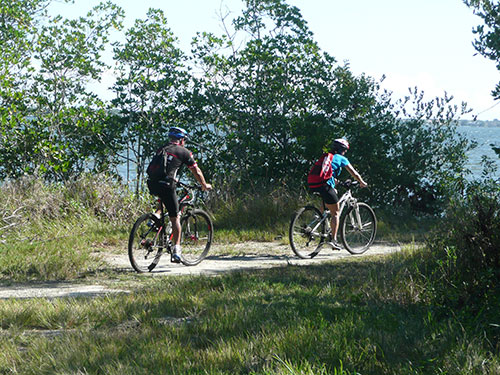 Lagoon Greenway boasts an ecologically diverse three- mile trail system for hiking, jogging or bicycling. The trailhead parking area lies under a broad canopy of live oaks draped with Spanish moss. The trail winds its way through the oak hammock and a forest of cabbage palms before arriving at the mangroves. A boardwalk offers a shaded glimpse into a mangrove forest on the way to a Lagoon overlook. This out-and-back hike is one mile. For those seeking more exercise, try the long loop trail that offers 2.5-3 miles of walking or biking.

There is also a short Mini-Adventure trail, which offers a more intimate nature experience along a single-lane trail through the shaded oak hammock. Bicycles and leashed dogs are welcome! Click here to download the Lagoon Greenway Trail map.
---
Toni Robinson Waterfront Trail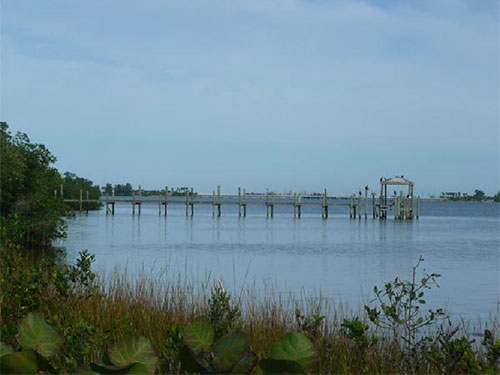 Public Trail Open Daily - Dawn to Dusk

Located south of the Wabasso Bridge on 79th Street off North US1. (Look for the sign for Hobart Landing. The trailhead is on the left side of 79th Street.)

Toni Robinson Waterfront Trail is a hidden gem that contains majestic oaks, scrub forest, mangrove swamp, and beautiful views of the Indian River Lagoon.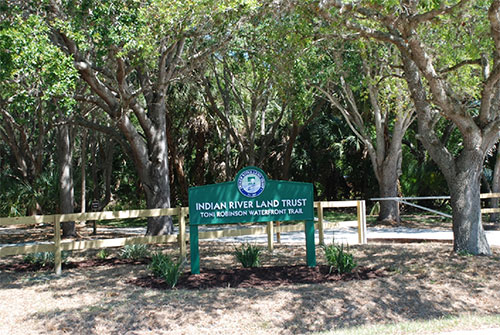 The one-mile trail starts with an easy walk through an open canopy scrub habitat and shaded oak hammock. The trail eventually loops around the mangrove forest and also features a shaded boardwalk through the mangroves and a dock with a covered bench over the lagoon. Bicycles and leashed dogs welcome! Enjoy the dock but please NO FISHING!

Note: There is active beekeeping on this property. Please keep a safe distance from the hives -the bees are working to make our world a thriving place. Click here to download the Toni Robinson Waterfont Trail map.