Our Impact in the Community
As communities across America address the issue of urban development that impacts over two million acres of natural land each year, the diligent efforts of the more than 1,500 private non-profit land trusts across the country to counterbalance the sprawl are seeing success. Land trusts are protecting more than 800,000 new acres each year - more than double that of 5 years ago. However, even with such progress, there remains much more to be done to protect our most cherished land and water resources before they are lost forever.
OUR IMPACT IN INDIAN RIVER COUNTY: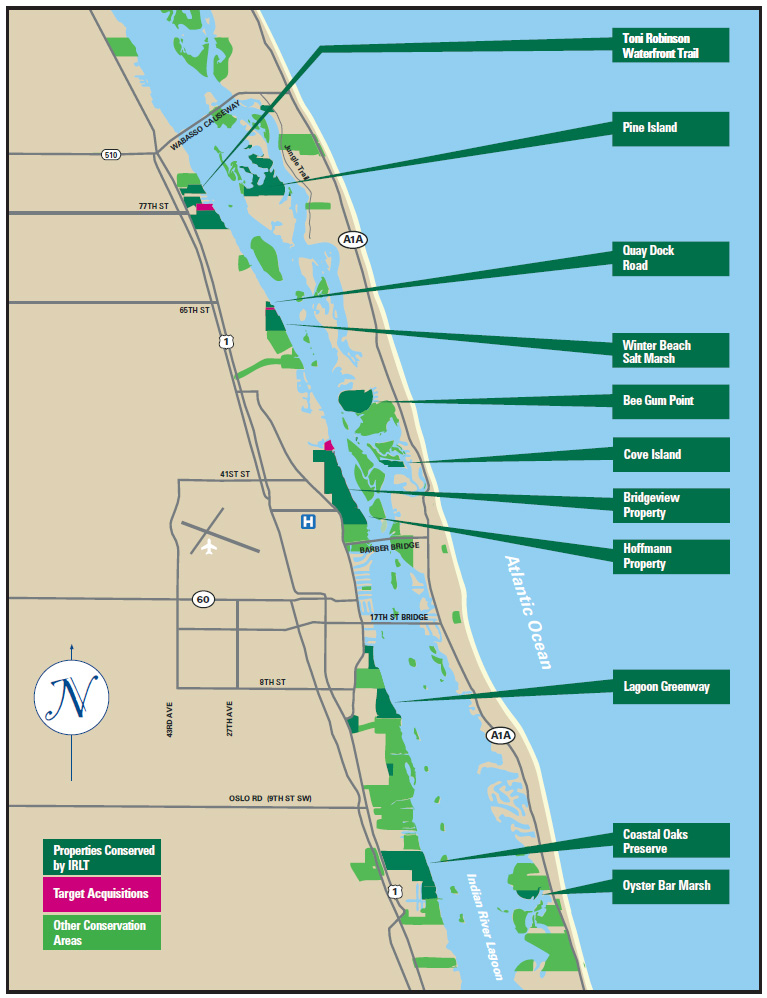 30 YEARS AND 1,200 ACRES PROTECTED, INCLUDING 12 MILES OF INDIAN RIVER LAGOON SHORELINE!

After we purchase properties or protect them with conservation easements, our work continues in perpetuity. The Indian River Land Trust actively manages protected properties by removing invasive plants and restoring native species and habitats. Through ongoing land stewardship, the Land Trust works to protect wildlife corridors and scenic waterfront areas. We believe that our work enhances and improves the natural beauty of Indian River County now and for generations to come.

The Land Trust also provides public access for education and recreation. With three public trails open year-round and guided tours on multiple properties, IRLT offers residents and visitors alike a chance to get outdoors and enjoy the natural world around us.

The Indian River Land Trust, a member of the national Land Trust Alliance, is one of the hundreds of land trusts that work to maintain and improve the quality of our lives by protecting special places in local communities. The success of the Indian River Land Trust, like that of the many other land trusts, is found in our entrepreneurial spirit. We represent the best of community pride, bringing people together to protect unique natural areas that help define the special quality of Indian River County.

Land trusts protect land through outright purchases or holding conservation easements that fulfill landowners' wishes to preserve the land for their children, grandchildren and future generations. The Indian River Land Trust is a resource for landowners as they consider the best options for protecting their land.