Protected Lagoon Waterfront Properties
In 2009, the IRLT Board of Directors identified large, undeveloped properties with wildlife habitat value along the Indian River Lagoon as its highest priority for protection. Since that time, IRLT has purchased and managed significant conservation lands that abut the Indian River Lagoon. The ongoing Lagoon Waterfront Initiative aims to: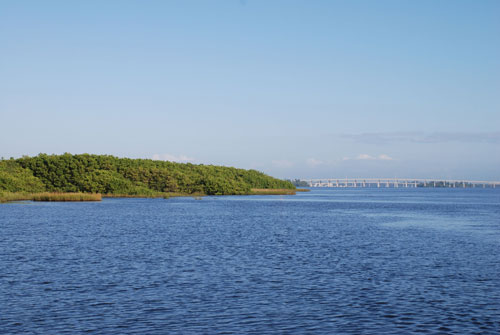 Preserve environmentally important land and water resources
Protect scenic waterfront areas from further development
Provide open space for public recreation and education
IRLT has now protected more than 1,200 acres and 12 miles of shoreline on the Indian River Lagoon. Many of these properties are complemented by adjoining County and State conservation lands, forming large blocks of critical wildlife habitat. Some of these properties are:

Coastal Oaks Preserve:
In 2011, the Land Trust purchased 191 acres of the former Hallstrom Estate which is now known as Coastal Oaks Preserve. In 2016, the Preserve was expanded to 220 acres and currently contains 226 acres. Located 1/2 mile north of the St. Lucie County border with Indian River County, the property features a variety of habitats, including freshwater wetlands, pine flatwoods, tropical oak-palm hammocks, salt marsh, mangrove forest, and seagrass beds. It serves as the outdoor classroom for the Junior Scientist Fellows Program for high school juniors and seniors who are mentored by faculty and staff at FAU's Harbor Branch Oceanographic Institute as they conduct hands-on research projects that inform IRLT land management.


Bee Gum Point Preserve: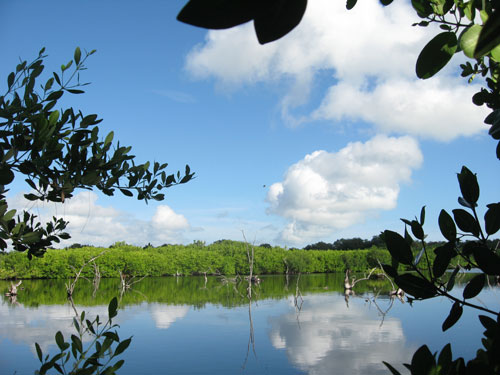 IRLT purchased Bee Gum Point in 2011, which at the time was the organization's largest conservation property. The 111-acre property was one of the last unprotected wetlands on the barrier island and contains a mile of lagoon shoreline. Due to its key location along the Atlantic Flyway, a major corridor for migrating birds, IRLT obtained grant funding toward it's purchase from the North American Wetlands Conservation Act which is designed to protect critical migratory bird habitat. The preserve is managed as a bird sanctuary, where regular bird watching and conservation tours are held. This unique preserve also serves as a study site for research projects focused on seagrasses, diamondback terrapins, and sportfish such as snook and tarpon.

Winter Beach Salt Marsh: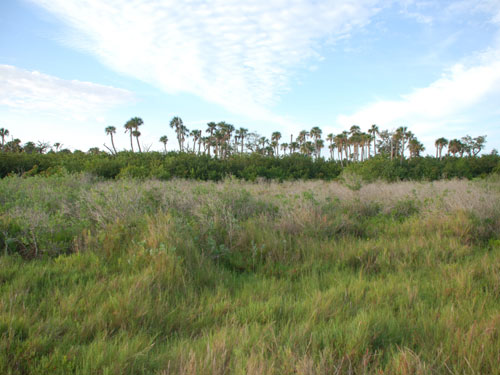 In 2010, IRLT purchased 50 acres of conservation land along the west side of the Indian River Lagoon off of 63rd Street. The property contains high salt marsh habitat that has become increasingly rare as a result of development and impoundment for mosquito control, and more recently sea level rise. With subsequent purchases, the conservation area now totals 65 acres and has benefitted from salt marsh restoration funded by grants from the U.S. Fish and Wildlife Service.

Bridge View Properties: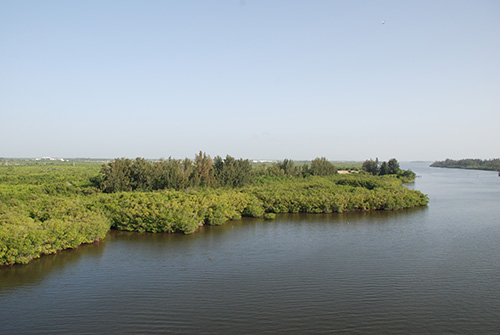 In 2013 and then over the following 7 years, IRLT acquired 10 parcels totaling 300 acres along the portion of the Indian River Lagoon known as The Narrows. Including County conservation land associated with the Barber Bridge, there is now a nearly two-mile stretch of green shoreline in full view north from the bridge. The properties include mangrove forest, high salt marsh, tidal creeks, and upland meadows and forests.

Land Stewardship and Management
When IRLT acquires conservation lands, it is with the commitment to care for the land in its natural state in perpetuity. Land stewardship encompasses the management activities to preserve healthy habitat, restore native habitat, prevent damage by invasive species, and to maintain public trails and associated infrastructure. Examples of land stewardship projects include salt marsh restoration, boardwalk repair/replacement, native plantings, and invasive species removal.

Land stewardship also involves educating the public about the importance of IRLT's conservation lands, training and coordinating conservation tour guides, organizing volunteer stewardship events, monitoring properties for vegetation and wildlife, and coordinating research activities such as seagrasses, geology, fisheries, and wildlife.