IRLT Membership Makes a Difference
Thank you for making IRLT's Annual Membership Event a success!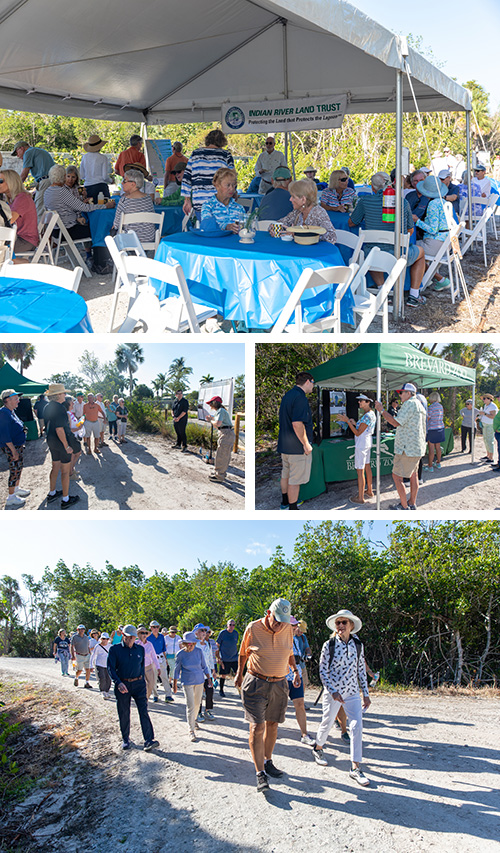 On March 25th, more than 150 Land Trust supporters gathered at Oyster Bar Marsh to celebrate another successful year of conservation and preservation! IRLT members listened to the music of the Penny Creek Band and enjoyed bagels by Einstein Bros. Bagels, fresh squeezed orange juice of Schacht Groves and water from Gould Cooksey Fennel, P.A. Members enjoyed an update from Executive Director, Ken Grudens, and Board Chair, Gregg Casalino regarding the successful passage of the Environmental Bond Referendum, the opening of the Oyster Bar Marsh Trail, and IRLT's conservation work in our county. During the event, members and guests toured the beautiful new trail and boardwalks, enjoyed a native bird exhibit hosted by our friends at the Brevard Zoo and heard from two of our Junior Scientist Fellows about the research taking place on Land Trust properties. Golf cart tours were made possible by Total Golf Cart, LLC.

Click here to watch a recap of the 2023 Annual Member Event!

We would like to thank all the sponsors who made the event possible.

Lead Sponsor: Coastal Waterways, Inc.
Gould Cooksey Fennell P.A.
Schacht Groves
Einstein Bros. Bagels
Total Golf Cart, LLC